Snorkelling with Turtles
Oct 22, 2018
The beauty of snorkeling is that anyone can do it, and at any moment all you need is to grab a pair of goggles and snorkels in order to get a window into the underwater world. Remote, untouched and teeming with biodiversity, the Outer Islands of the Seychelles offer a one-of-a-kind snorkeling experience.
Depending on the island your excursion takes off from, you can see colourful coral, Eagle Ray, Marble Ray, Octopus, Oriental Sweetlips, Butterflyfish, Nurse Sharks and more. But one of our favourite experiences is snorkeling with turtles. The two most common turtles to be found in this corner of the Indian Ocean are Green Sea Turtles and Hawksbill Turtles.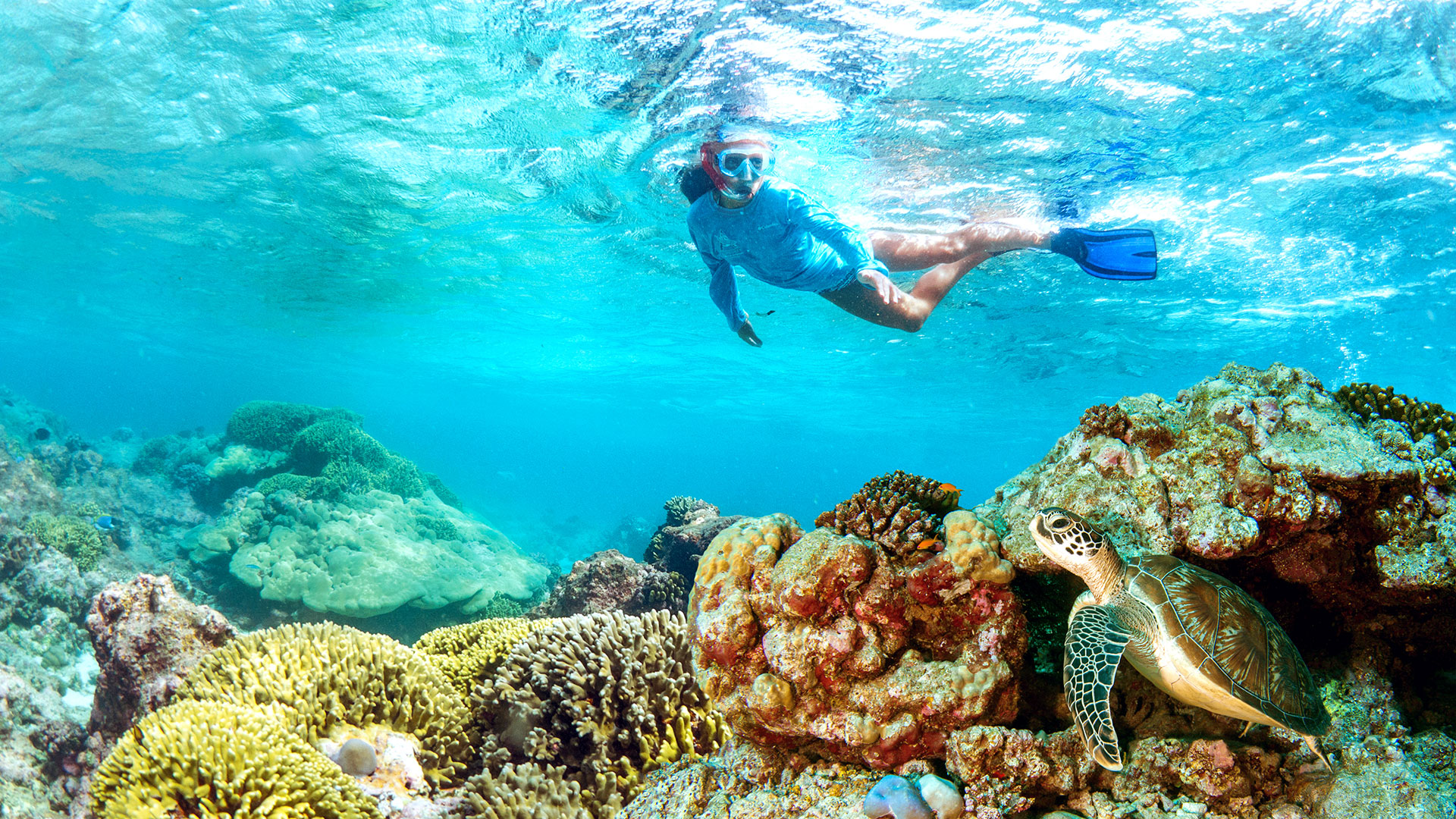 Green Sea Turtles
Green Sea Turtles are widely known because their teardrop-shaped shells make them the largest shelled sea turtle in the world. These remarkable gentle giants can reach up to 1.2 meters in length and can weigh as much as 200 to 300 kg. Although large in size, Green Sea Turtles are generally quite shy herbivores.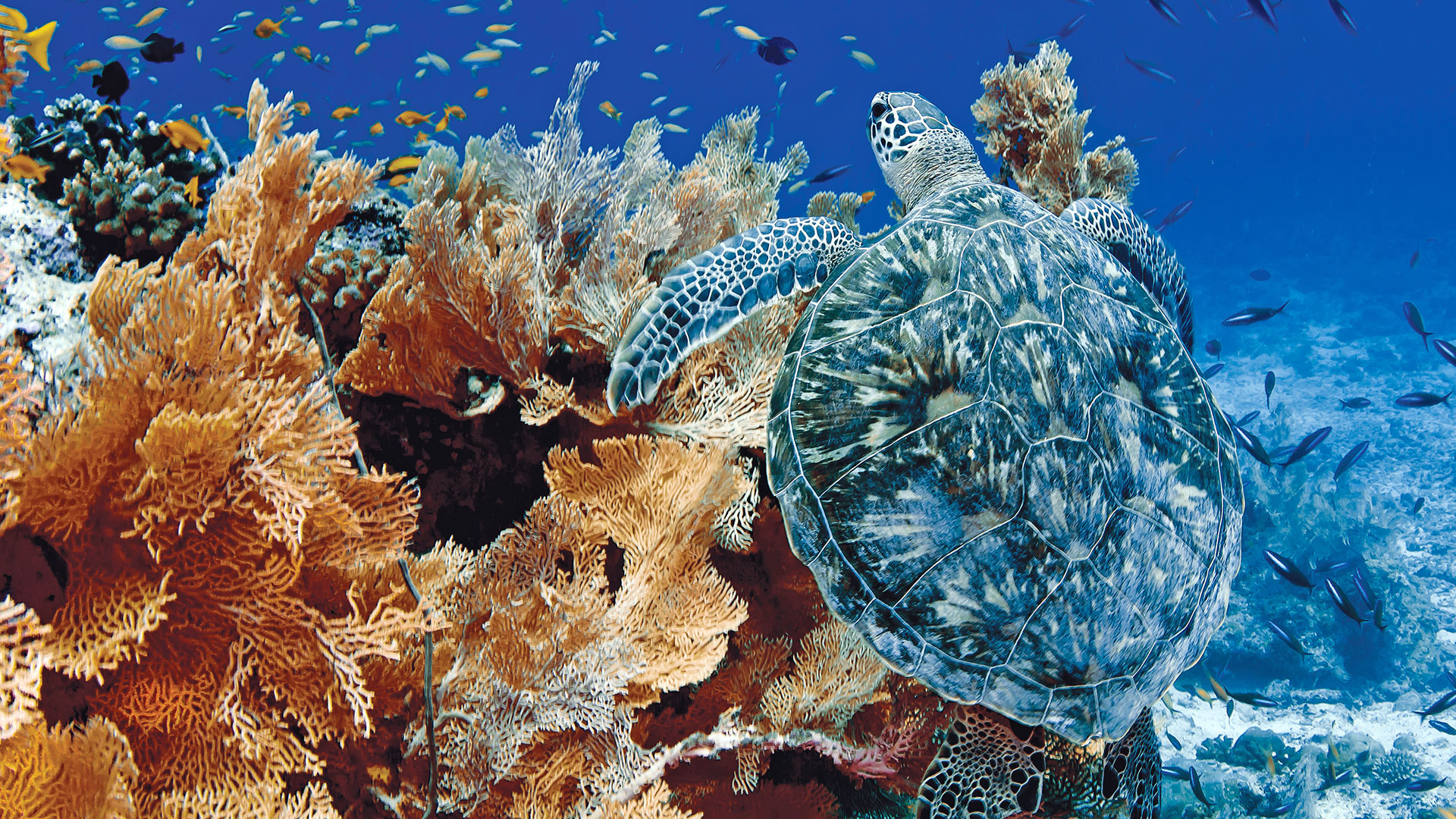 Hawksbill Turtles
The Hawksbill is identified by its curved beak and is slightly smaller than Green Sea Turtles. A Hawksbill shell is also known to change colour slightly depending on the temperature of the water.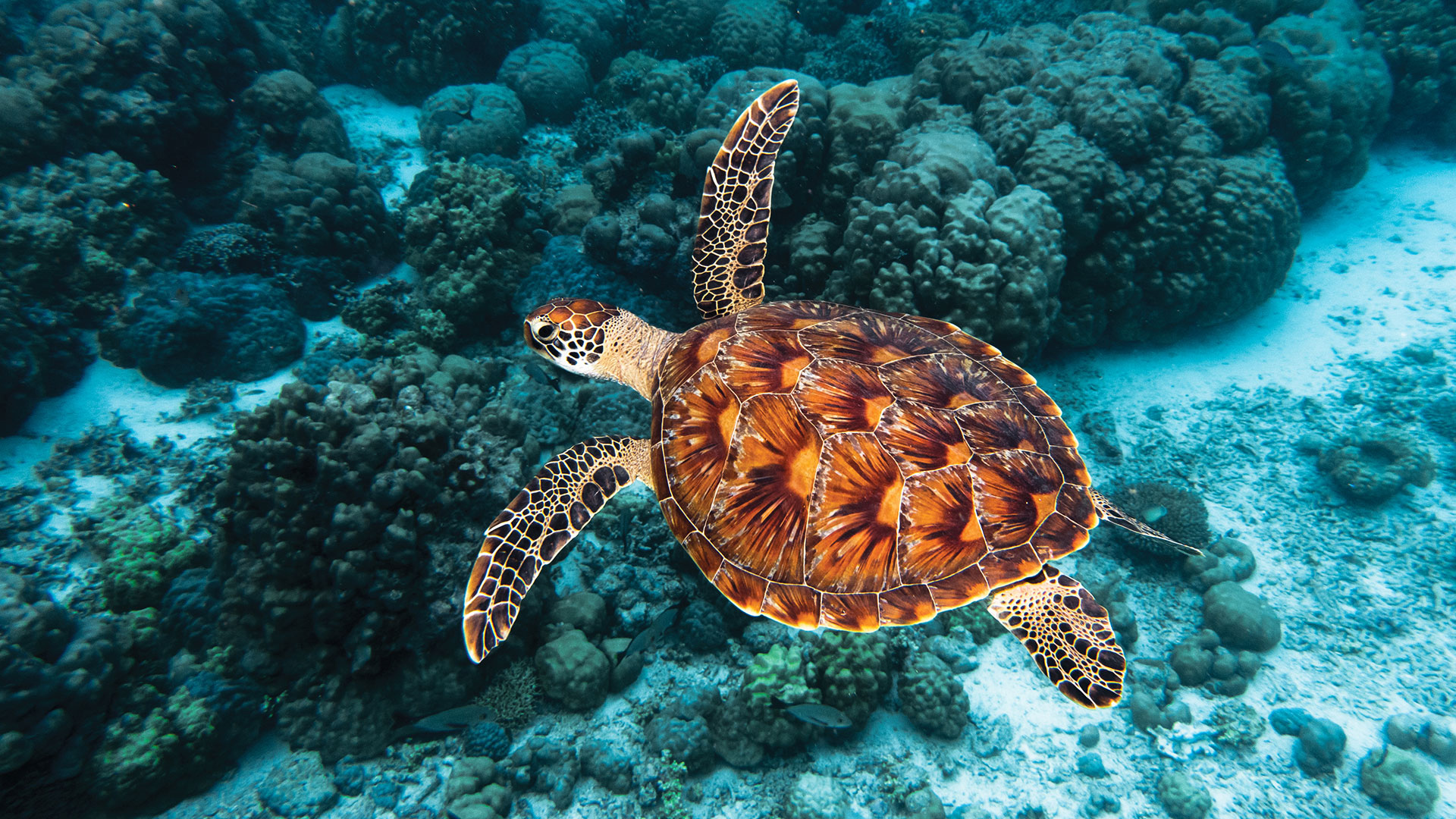 Finding Turtles While Snorkeling
One of the many benefits of being situated in the heart of the Indian Ocean is that snorkelers will have ample opportunity to swim with turtles. Especially since they are so prolific in this area and it can be common to lose count of the number of turtles sighted.
Hawksbill turtles, with their varied diet and roaming manner can be found almost anywhere. The slightly larger Green Sea Turtles are a bit more picky and can be found nibbling on turtle grass, their favourite meal time snack. During low tide, it is common to see them resting on the reef waiting in anticipation for the tide to push and allow them access to the seagrass flats.

"It can be common to lose count of the number of turtles sighted"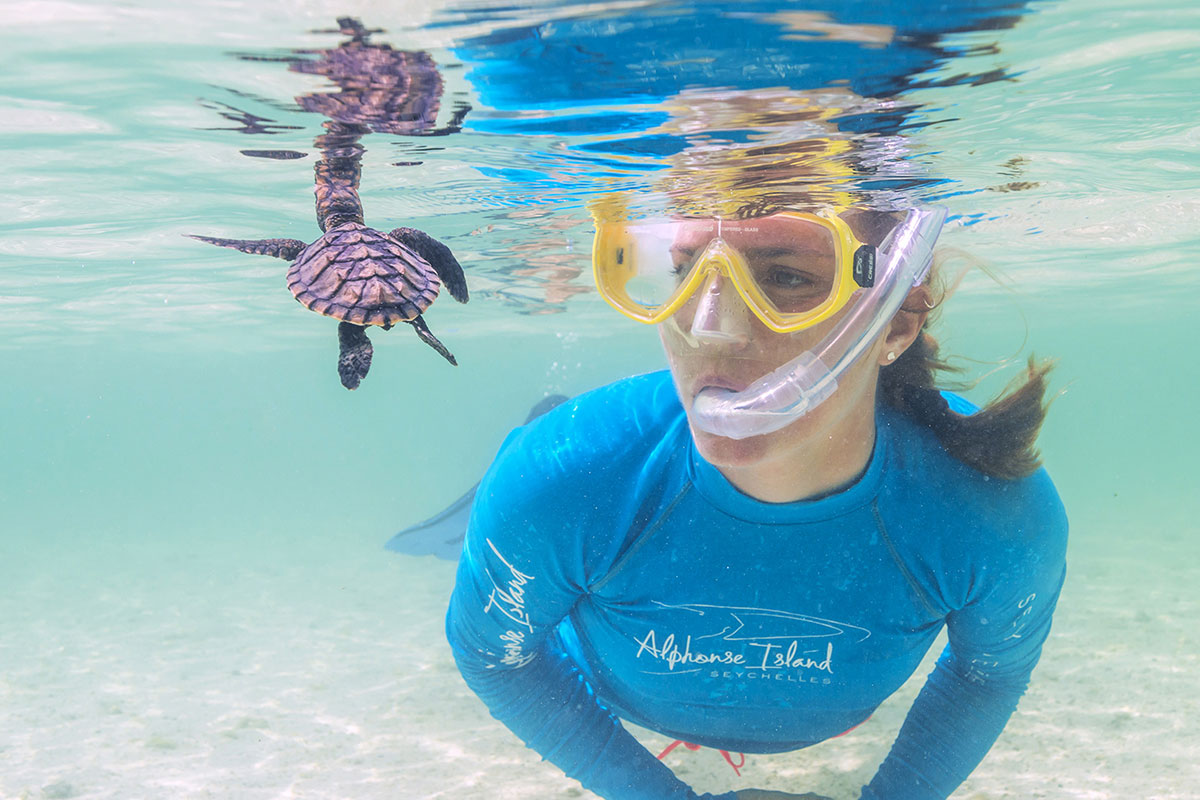 Tips When Snorkeling With Turtles
When snorkeling with turtles it is important to always have a healthy respect for the wild aquatic animals, it is a key aspect in any maritime activity with Blue Safari Seychelles.
When snorkeling, the number one thing to be careful of is swimming above a turtle. Turtles need to periodically surface to breath and if you are swimming above them they might feel as if your are blocking their path to the surface.
It is also important to react according to their behaviour. It is a general rule of thumb not to touch any animal but rather observe them from a safe distance. If you swim towards them and they repeatedly swim away then rather give the turtle space and move on to some other marine beauty to gaze upon.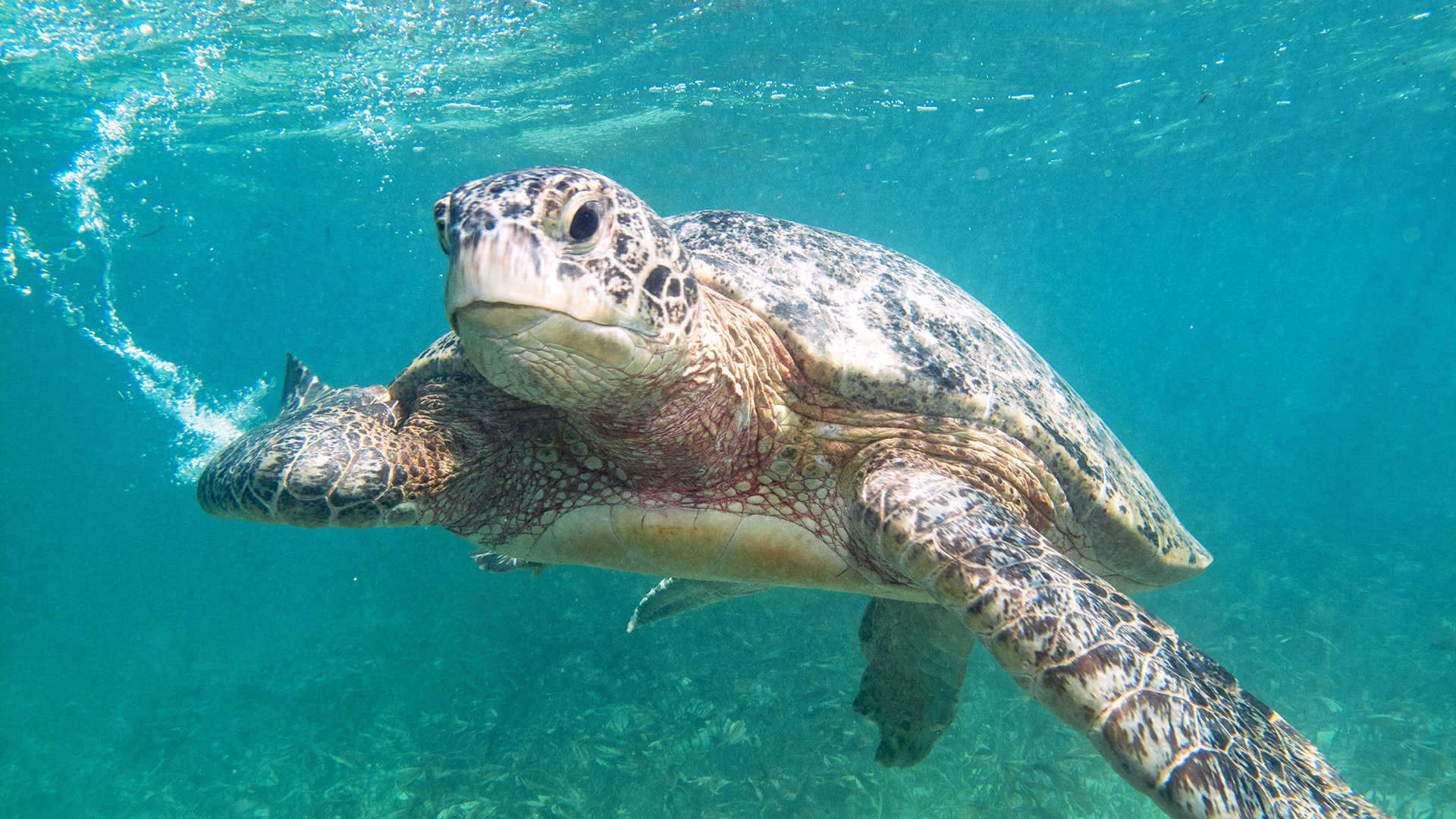 Conservation Of Turtles
The opportunity to swim with so many Green Sea and Hawksbill Turtles is unfortunately not something that can be enjoyed in many places. Both species have been, and still are, threatened. With dwindling numbers Blue Safari Seychelles and Island Conservation Society partnered to conserve the area and these unique animals. In part due to the remoteness of the Outer Islands and the unwavering dedication to marine conservation, this area now enjoys the rare luxury of seeing Hawksbill and Green Sea turtles in such great numbers.