Best Dive Sites
The below-mentioned scuba dive sites are only a small selection. We have many more world-class and certified dive sites to visit around our atolls. Below are articles about the areas we typically dive at.
We have many more world-class and certified dive sites to visit

Along the wall, at roughly 22 metres, there is a big coral outcrop which continues slightly deeper to 30 metres where there is a slight step-off with a sandy bottom. There are many overhangs with pink sea fans along the wall. There are possibilities of viewing schools of snappers and emperors, big Potato Groupers and Oriental Sweetlips. Also frequenting this site are pelagics such as shoals of tuna and various species of sharks. This site is loved by underwater photographers for its impressive scenery.
Sometimes we come across sleeping Nurse Sharks here or turtles that were searching for a quiet place to rest.

You will find very big pink, orange and white sea fans and whip corals along the wall, with many holes and overhangs present. Towards the end of the dive the topography changes and more structured coral covered rocks provide shelter for many snappers, Bluefin Trevally, Eagle Rays, turtles and sleeping Nurse Sharks. This is a great drift dive along the 90-degree wall with impressive fan corals and a good chance of seeing big fish out in the blue.
Grey reef sharks and turtles may also swim your way

There are big coral head formations on the plateau where you can see a great variety of schooling reef fish and turtles. A good place to find Scorpion Fish, moray eels, lobsters and jacks, as well as sharks. A beautiful dive site with so much life and colour to see. This is an excellent spot for macro photography and ideal for beginners.(5 - 15 m plateau; slopes to 30 m)
Once outside again, the water is full of fusiliers, snappers and young Barracuda.

Open water raised reef with its top at 16 metres covered with big colourful sea fans, schooling fish such as emperors, fusiliers, snappers, jacks, Potato Groupers, moray eels, and Napoleon Wrasse. Underwater photographers will be completely captivated by this dive site. This is a top spot around Alphonse, but only for experienced divers in ideal weather conditions. Sometimes this site has very strong currents, so a fast descent is necessary to hit the spot. This site can only be dived during periods with small tidal differences.
Spot special kinds of nudibranchs or snails as well as a variety of moray eels.

This site features sloping bottom topography covered in hard coral which continues along the vertical wall starting at 16 metres. On the plateau you have a good chance of finding Scorpion Fish and turtles sleeping under coral heads, as well as Grey Reef Sharks. The "Arcade" itself is U-shaped and consists of holes and overhangs where Napoleon and groupers seek shelter from the gentle current. Schools of Dogtooth Tuna, Chevron Barracudas and jacks frequent this dive site.
The fish life is remarkable on this dive site: big shoals of snappers and fusiliers, Sweetlips, sleeping stingrays and especially Nurse Sharks.

PADI Scuba Diving Courses & Instructors
Dive Straight In
The dynamic and professional team at the Alphonse Dive Centre offers a wide variety of scuba diving courses. With several years of international and local diving experience, the team has the utmost enthusiasm for sharing memorable underwater encounters with guests of all ages. We are committed to making guests' scuba diving training personal, safe and unforgettable.
Beginners can choose from a selection of PADI Beginner Courses on offer, whilst a refresher course is available to those who haven't dived in a year or more. These scuba diving courses are great for guests new to the sport as well as for children and include the Discover Scuba Initiation Programme and the PADI Bubble Maker course.
For those with experience under the belt, the team offers a full range of Advanced & Beyond PADI accredited scuba diving courses.
Scuba Diving Equipment & Boats
Launching You Into an Underwater Adventure
The Alphonse Dive Centre ensures that all our scuba diving gear and equipment is well maintained and kept in top condition to ensure fun and safe diving trips. All scuba diving gear and equipment is provided by the Dive Centre and includes wetsuits (3mm short and full suits), masks, fins (assorted sizes), weights, aluminium cylinders, regulators, BCD's, dive computers and torches. The Dive Centre has partnered with Paralenz to provide guests with the perfect camera for scuba diving. These specialist cameras can be rented on a daily basis or as part of a scuba diving package. 

To ensure that you reach your desired diving destination quickly and comfortably, Alphonse has two purpose-built dive boats, the Amirante Cat and Zanbren. The two twin engine, 225hp vessels are covered to protect you from the sun and also holds towels, drinks and snacks for in between or after your dive(s). The number of divers on a trip are kept to a minimum and the dive group ratio will be a maximum of 1 guide : 5 divers. Our skippers are fully licensed and endorsed for driving dive boats as well as being divers themselves, meaning they know the scuba dive sites and their attractions well.


Popular Sightings
Sightings during scuba diving excursions range from pelagic fish and big predators to reef species and macrolife. Divers will get to view countless Green Turtles and Hawksbill Turtles during the dives as they make their way along the coral reefs. There are also up to 15 different species of moray eels to be spotted in the cracks and crevices of the reef. Our dive sites are teeming with large groups of schooling fish like Barracuda, Bigeye Trevally, Batfish, emperor and fusilier as well as Bluelined, Humpback and Bohar Snapper which often encircle divers - this is quite an experience! 

Divers who enjoy the thrill of viewing predators can feast their eyes on large Dogtooth Tuna, Napoleon Wrasse, Giant Sweetlips, Potato Cod and a variety of grouper. Most sites hold stunning drop-offs which increase the chances of spotting pelagic species out in the blue. Be sure to also keep an eye out for the different sharks of the Seychelles found in these waters including Hammerhead, Bull, Silvertip, Tawny Nurse, Whitetip Reef and Grey Reef Sharks.

Macro-enthusiasts is assured of a real treat as they can spot a host of creatures like Leaf Scorpionfish, Longnose Hawkfish, Pipefish, Tasseled and Devil Scorpionfish, Seychelles Anemonefish and Porcelain Crab. There is also an array of Nudibranch, Flatworm, Coral Whip Goby and shrimp species such as Peacock Anemone Shrimp, Cleaner Shrimp, Peacock Shrimp and Tiger Mantis Shrimp.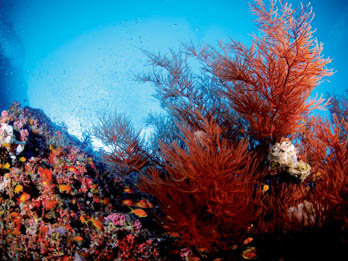 Soft Corals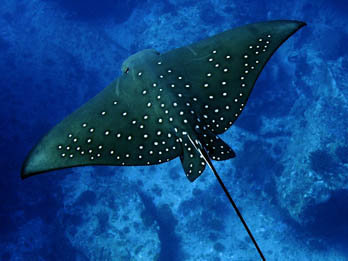 Eagle Ray
Butterflyfish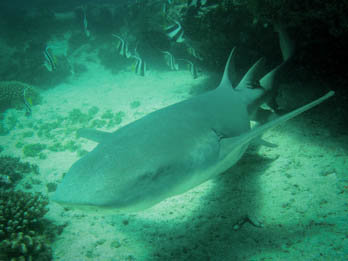 Nurse Shark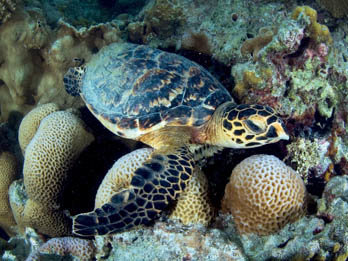 Hawksbill Turtle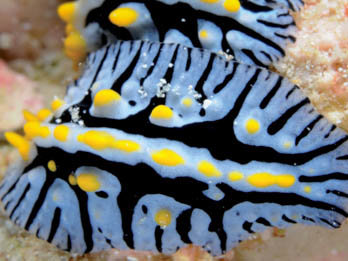 Nudibranchs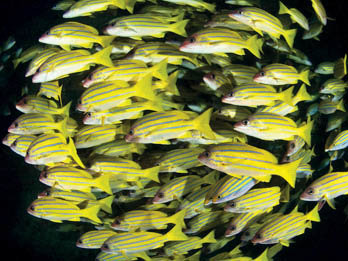 Bluestripe Snapper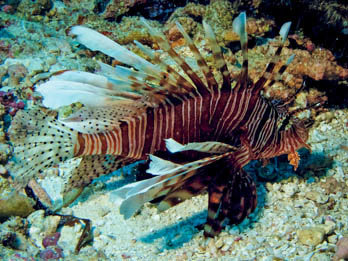 Lionfish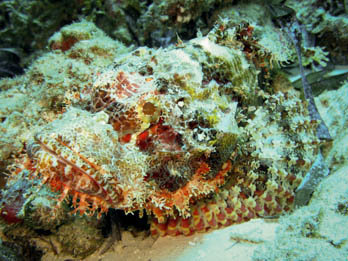 Scorpion Fish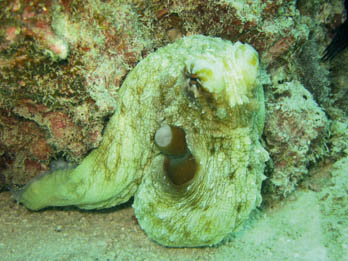 Octopus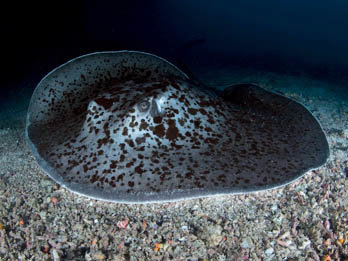 Marbled Ray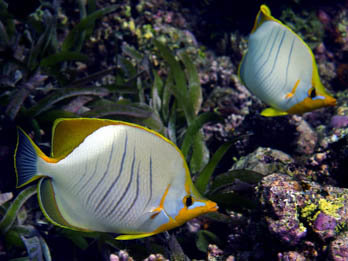 Butterflyfish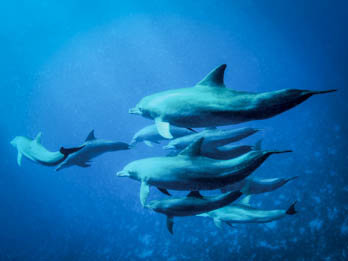 Spinner Dolphins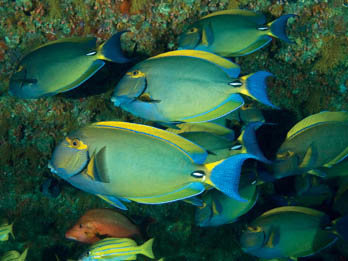 Eyestrip Surgeonfish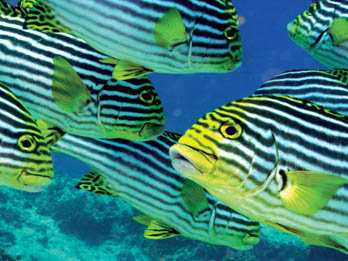 Oriental Sweetlips