About Alphonse Island
Pristine and Pure
The Alphonse group of atolls is considered one of the most pristine, untouched Edens of the world, making it a nature lover's paradise. The magnificent island threesome comprising of Alphonse, St. François and Bijoutier lies in the very heart of the Indian Ocean as part of the Seychelles outer islands.
Beautiful white beaches line the edges of the dense natural forest, interspersed with the remnants of old commercial coconut groves. Here you will find ancient ambling tortoises, scurrying crabs and an interesting array of bird species. Escape to the exquisite simplicity of a tropical island paradise, leaving behind the impositions of everyday life. Experience the raw beauty of an untouched natural sanctuary and one of the prime protected fisheries in the far reaches of the Indian Ocean.
Facts about Alphonse
Located 400km (250 miles) south-west of Mahé in the Seychelles
Situated only 7º south of the equator
Miles of unblemished shorelines, lagoons and sea flats
Only 22 Bungalows, 5 Suites and 2 Villas in total
One of the most remote inhabited islands in the Seychelles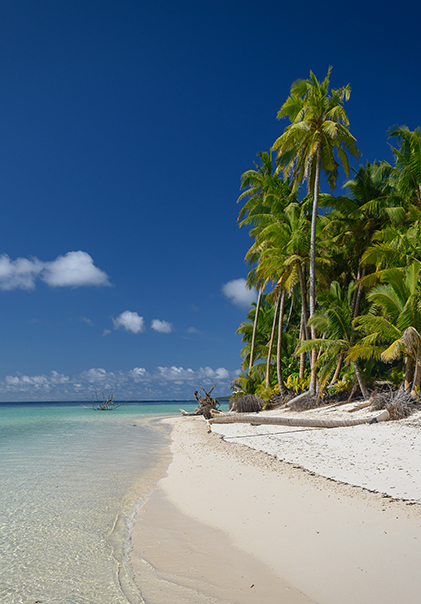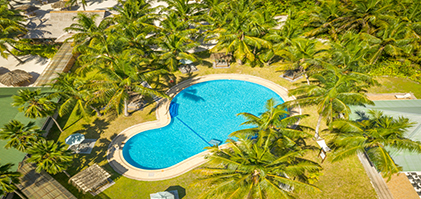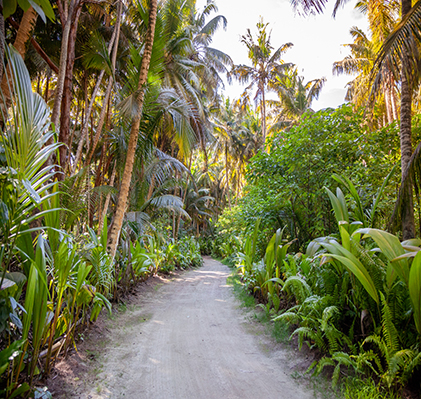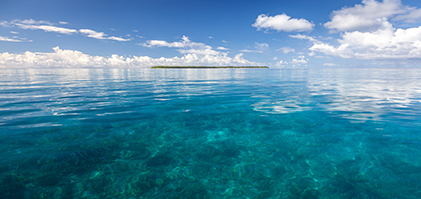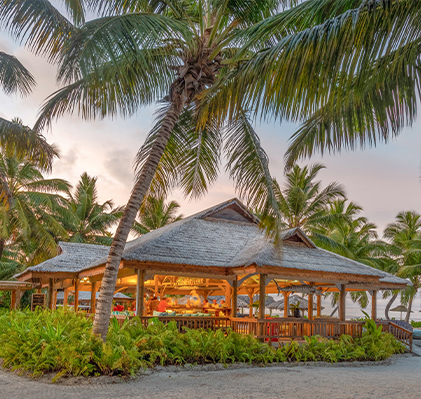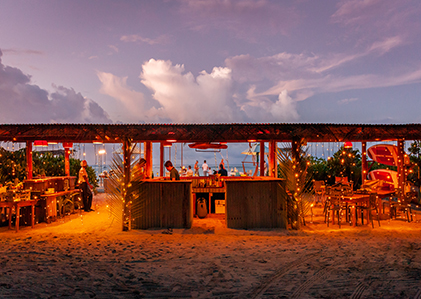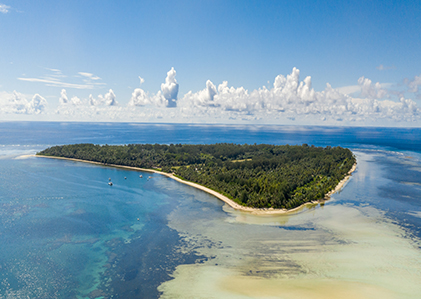 Getting Here
Just a flight away
One of the attractions to Europeans, Africans and especially Middle Easterners is that the Seychelles is located in a similar time zone to these areas. It is only four and a half hours by plane from Dubai, Abu Dhabi and Doha which all serve as a connecting hub for regular international flights from Europe, the United States, Africa and Asia. Additionally, direct flights to the Seychelles are available from Paris, London, Mumbai, Bombay, Nairobi, Antananarivo, Mauritius, Johannesburg, Addis Ababa, Réunion, Colombo, Istanbul, Dar-Es-Salaam, Dusseldorf and Frankfurt.

Alphonse Island is a 60-minute flight from the Seychelles capital of Mahé. There is a scheduled flight departing from Mahé on Saturday at 10:00 and in the event of a second flight, it will depart at 13:30. There is also a flight departing on Wednesday at 14:00 and if a second flight is needed, it will be scheduled for 10:30. In the event of a third flight, flight times will be provided once confirmed. From November to April, additional seats might be possible on our Astove Atoll flights on Mondays at 08:00 or our Cosmoledo Atoll flights on Thursdays at 08:00, as these flights stop on Alphonse Island to refuel. Guests will be booked onto flights according to availability and are required to fly into Mahé at least 3 - 4 hours before the flight is scheduled to depart as check-in is 90 minutes before departure. Our reservations team will arrange your flights to and from the island when booking your stay with us.

Contact us to arrange all flight bookings for your visit.
The Resort
Exotic Simplicity
Alphonse Island features a single lodge comprising of Beach Bungalows, Beach Villas and Beah Retreats built alongside the water's edge, each with scenic ocean views. Freedom of movement around the island on foot or bicycle permits self-discovery of the wonders of this special place.
The main hotel complex consists of a reception area, lounge, beach bar, restaurant, spa, swimming pool, tennis court and main office. Guests stay in one of 22 Beach Bungalows, five Beach Villas or two four-bedroom Beach Retreats, all air-conditioned and optimally spaced for privacy and offering every comfort imaginable. The bar area, pool and lounge area provides the ideal venue to relax in the evening breeze after a day out in the sun and houses the Bijoutier restaurant which serves freshly caught seafood of the highest quality.
Alphonse Island is a refuge for people looking for an authentic and unspoiled island experience.
Weather
Where it is Always Summer
Situated only 7º south of the equator and outside the cyclone belt, Alphonse Island is blessed with one of the world's healthiest climates and gorgeous, consistent weather. Alphonse offers guests year-round summer days with temperatures seldom dropping below 22°C (72°F).
The north-west trade wind is prevalent from December to March, which are the hottest and wettest months with humidity averaging 65%. Tropical rain showers are usually short and sharp, doing nothing to dampen your spirits or a day out and about.
Although it's always a good time to visit the Seychelles, different times of year may be better suited to your particular interests. 
Dining
An Inspired Fusion of International and Creole Flavours
Bijoutier Restaurant and Le Lys Bar allow guests to socialize alongside the sparkling pool and shoreline, with diverse cuisine inspired by the sensuous island atmosphere and complemented by a comprehensive wine list.
With the use of indigenous flora and fish, along with our garden produce, the menus at Alphonse Island Lodge are built around freshness. Entwining the influences of local Seychellois Creole and French cuisine, our dishes overflow with inspiration from all corners of the Indian Ocean.
Fresh fish is available daily along with garden and forest harvests. With all these resources available to our chefs, their creativity is endless and their desire to exceed your expectations in the culinary department is unchallenged, aiming to cater for all dietary requirements and special requests.
Conservation
Research, Rehabilitation and Protection
Conservation is something we hold very close to our hearts here on Alphonse Island, and we are committed to protecting the unique fauna and flora of the area with ongoing research, rehabilitation and monitoring programs, focusing especially on nesting sea turtles, giant tortoises, sensitive marine habitats and forest rehabilitation. This dedication to conservation has at all times been at the center of our mission to create an island that is intimately connected to the natural environment.
Established in 2007, our Island Conservation Centre has ensured the key aspects of our ecosystem are well maintained and cared for. The Island Conservation Society (ICS) team offers activities upon the island such as Turtle Patrol, Beach Clean ups, Giant Tortoise viewing and feeding and bird-watching which guests are encouraged to join. Without their sound knowledge, our ecosystem on the atoll would not be what it is today.
The Alphonse Island Lodge provides support through its membership on the board of the Alphonse Conservation Foundation and hotel guests contribute essential funding to the activities of ICS through the payment of a conservation levy. ICS provides a weekly presentation to guests which provides progress updates and discussion of environmental topics. Books and souvenirs can be purchased from the ICS office, with the proceeds providing further financial support to the conservation efforts.