Dive Sites of Alphonse (less than 30 minutes away)
Oct 12, 2017
The Seychelles is such an exceptional destination and for this reason we can't blame our guests for wanting to experience all there is to offer at this gem of the Indian Ocean. Located in the Outer Islands, Alphonse Island offers its guests a wide variety of island and ocean experiences to ensure that you get the full experience. Scuba Diving in the Seychelles is truly exceptional.
One of these exciting experiences is headed up by our PADI accredited Dive Team and promises to be a real treat. Our scuba diving excursions are lead by our experienced and knowledgeable guides equipped with topnotch equipment and gear. The accredited Dive Centre allows guests to obtain or upgrade their current dive experience as well as offering refresher courses and courses for young divers.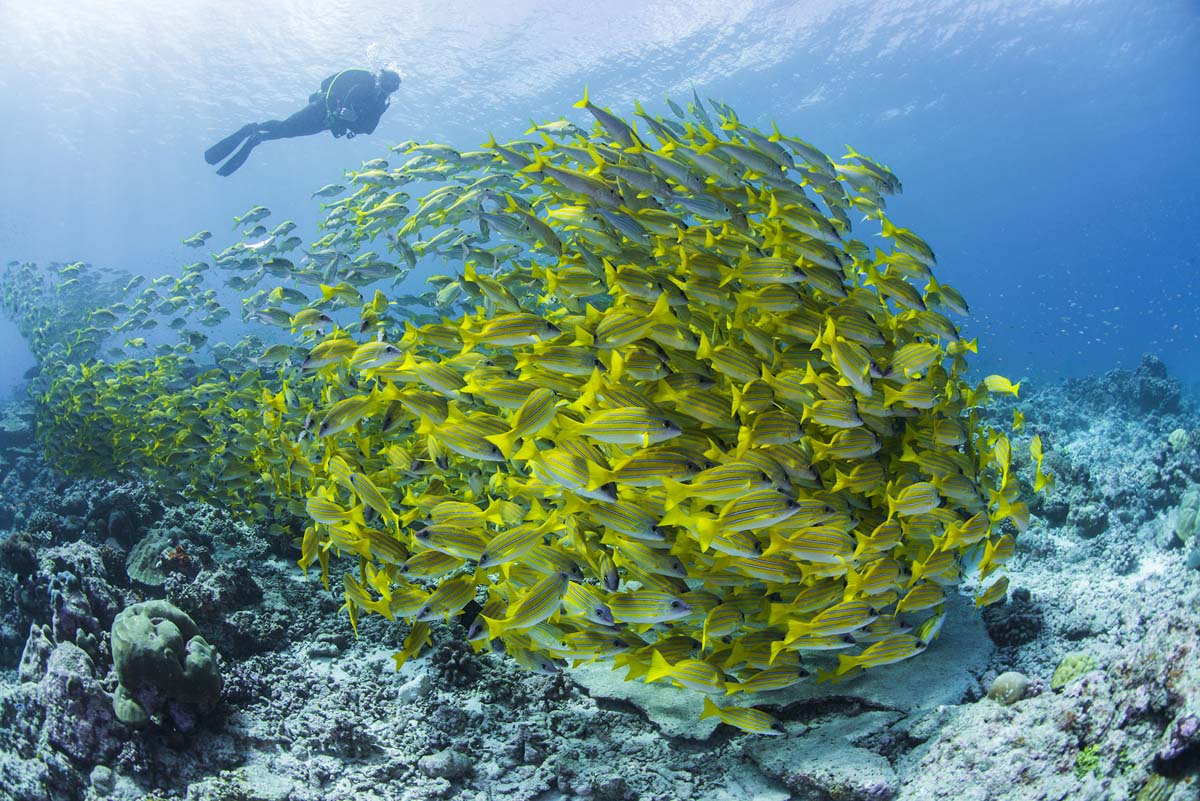 Now that you're briefed and geared up, it's time to board one of our dedicated vessels, sit back and enjoy the short, scenic boat ride to one of the 30 exceptional dive sites. Let's take a look at the Dive Sites of Alphonse (less than 30 minutes away):
Arcade
Location: 25 minutes by boat, North-East Alphonse
Depth: 16 - 40m
Arcade holds a sloping bottom covered in Hard Coral which continues to a vertical wall dropping off from 16m. Exploring on the plateau will bring you face-to-face with Hawksbill and Green Sea Turtles as well as Tasseled Scorpionfish. The "Arcade" itself is U-shaped and is made up of holes and overhangs within massive corals where schools of Bluelined Snapper, Yellowspot Emperor and several Giant Sweetlips seek shelter from the gentle current. Schools of Bigeye Trevally, Pickhandle and Blackfin Barracuda are commonly found hanging around the drop-off and will often encircle divers. Further along the drop-off and into the blue divers will often see various Sharks, Napoleon Wrasse, Bumphead Parrotfish and Unicornfish.
Special Feature: Arcade is one of the top dive sites at Alphonse due to its high coral cover and stunning topography as well as spectacular numbers of fish. There is also the occasional visit from large fish at the drop-off.
Abyss
Location: 25 minutes by boat, North-East Alphonse
Depth: 16 - 40m
Abyss is a wall dive which is great for deep divers. There is an initial drop-off step down from 16m to a secondary slight step-off with a sandy bottom over 40 meters deep. A big coral outcrop at 30m extends from the wall out across the second narrow shelf which allows divers to hang out over extremely deep water and look out into the open water for Dogtooth Tuna and a variety of Sharks. Along the wall there are many overhangs with beautiful pink Sea Fans covering them. This site also lends itself to sightings of schools of Humpback Snapper, Emperor and big Potato Grouper and Oriental Sweetlips. It is not uncommon here for divers to find themselves amongst schools of Bigeye Trevally or followed by inquisitive Batfish.
Special Feature: Abyss is one of the most famous sites at Alphonse as it holds impressive underwater scenery and a breath-taking amount of marine life.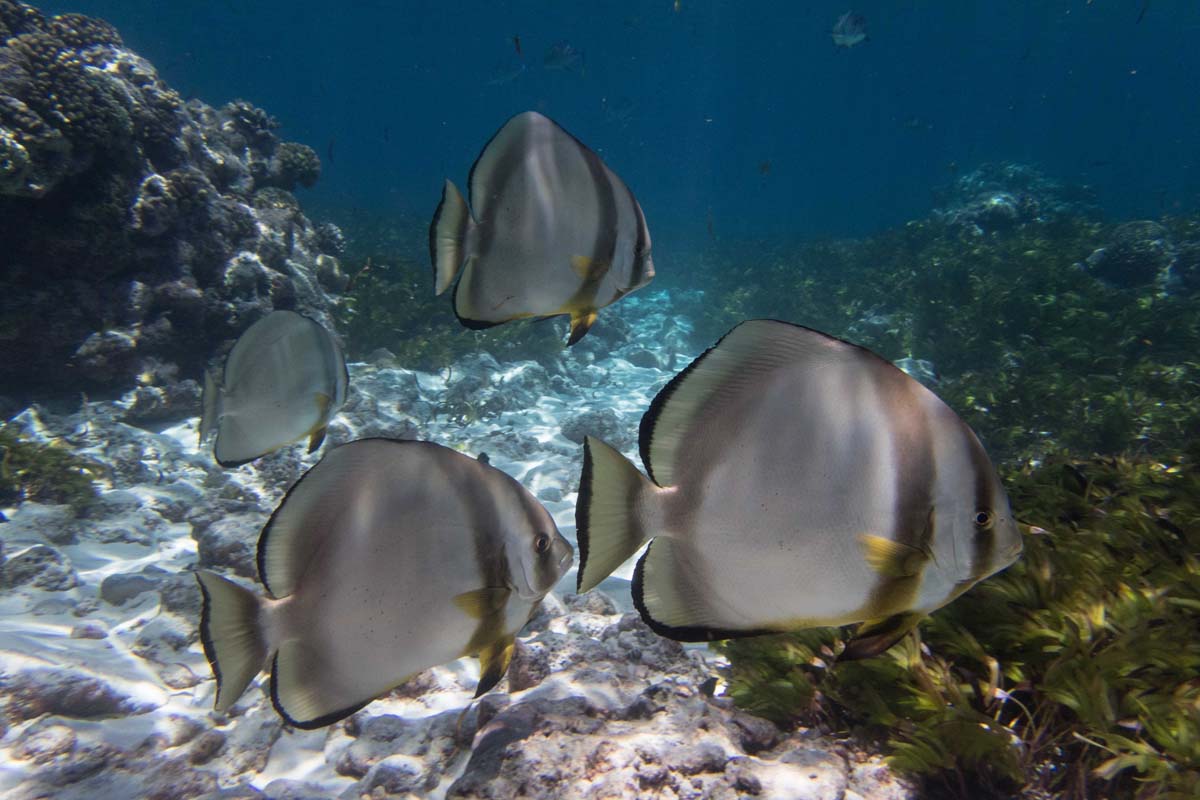 Group of Batfish
Boiler
Location: 20 minutes by boat, East Alphonse
Depth: 10 - 30m
Boiler dives include a descend from 10m down a vertical drop-off with numerous crevices and overhangs waiting to be explored. Soft Corals are highly abundant here with big pink, orange and white Sea Fans as well as Black and Whip Coral protruding from the wall. This vibrant setting might lead you astray in search of Gobies, Shrimp and Longnose Hawkfish which are associated with these Coral forests. As you peer into the caves you might be surprised/awarded with the sights of resting Turtles and Tawny Nurse Sharks while looking out to the open blue, you can spot Grey Reef and Bull Sharks. The topography of the site changes either side of the wall with increasing Hard Coral cover on a gentle slope. Here is where you'll find an incredible amount of Giant and Blackcheek Moray Eel as well as Cleaner Shrimps, Seychelles Anemonefish and Nudibranchs.
Special Feature: This is a great drift dive along the 90 degree wall with impressive Fan Corals and a good chance of seeing big fish out in the blue.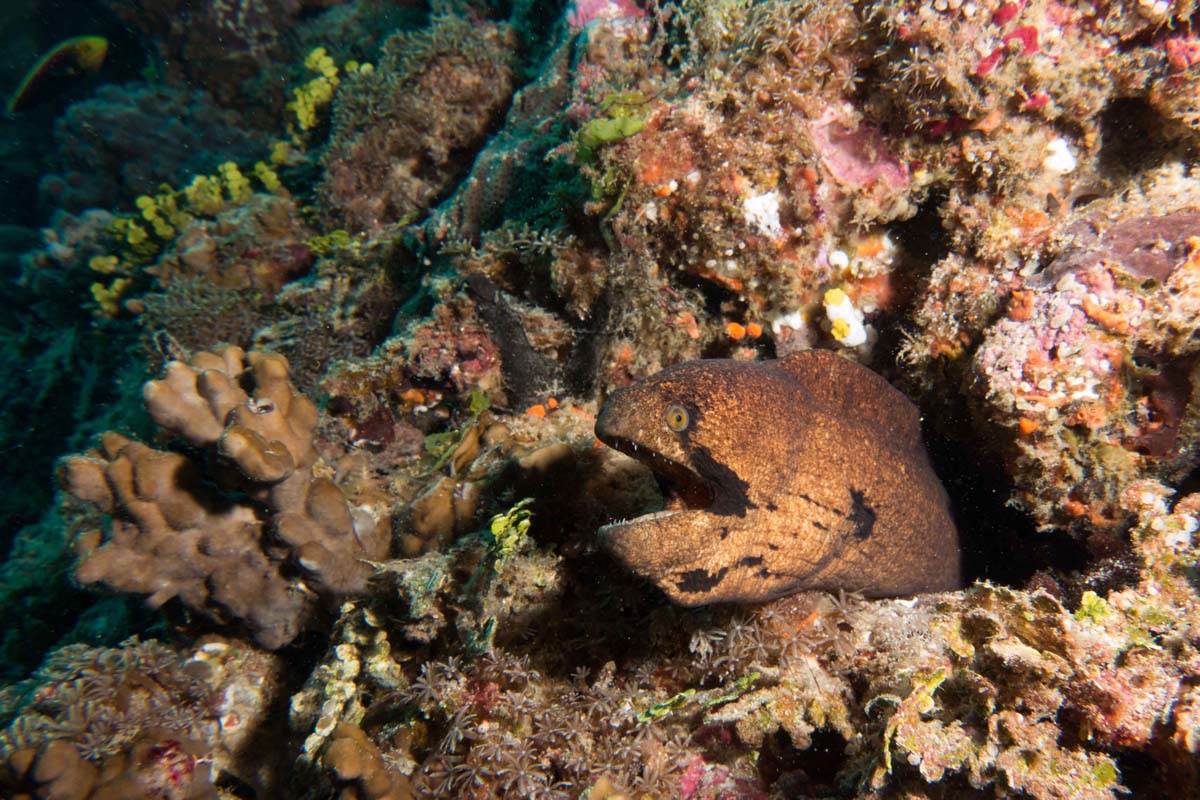 Blackcheek Moray Eel
Eagle Nest & Hotel
Location: 25 minutes by boat, East Alphonse
Depth: 10 - 30m+
This site holds a long stretching plateau from a depth of 10 - 14 meters with a great variety of Hard Coral formations. Deep in the crevices divers may find sleeping Nurse Sharks, large Grouper and Giant Moray Eels swimming around.Large groups of Bluestreak Fusilier linger above the coral structures and will often encircle divers. Reef fish such as Humpback Snapper, Oriental and Giant Sweetlips, Black and Bohar Snapper as well as Batfish often accompany divers on long shallow dives. Divers can also drop off the side of the plateau along the Sea Fan-covered wall where they can search for Nudibranch, Flatworm and various Shrimp. Be sure to also keep a look out for Giant Trevally (GT), Dogtooth Tuna and Napoleon Wrasse off the wall. As per the name, this is a top spot to find Eagle Rays cruising along the drop-off or even groups moving in large parades in the blue.
Special Feature: This is the perfect dive site for Open Water divers as the plateau is located at 10 - 14 meters. Advanced divers also enjoy it as you can drop off the wall to a depth of 30 meters.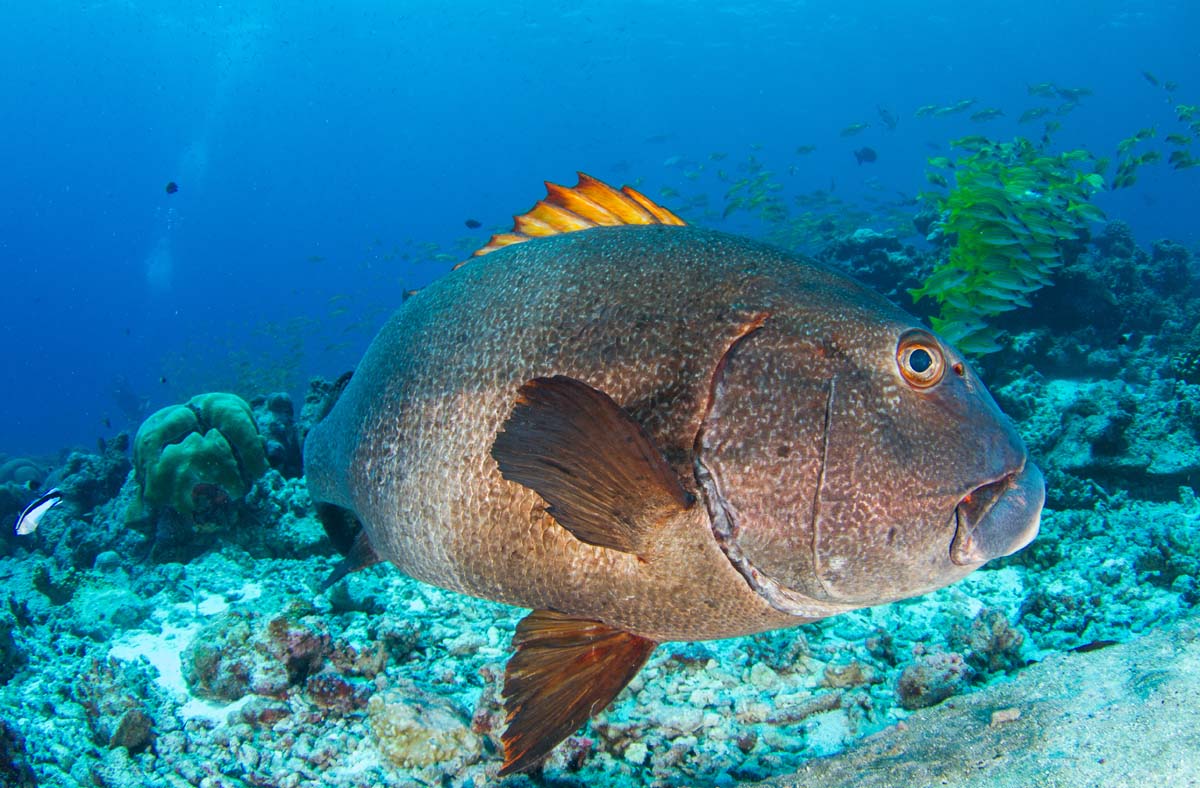 Giant Sweetlips
Galawa
Location: 20 minutes by boat, North-West Alphonse
Depth: 12 - 30m+
At Galawa the plateau starts in very shallow water with crags and crevices covered in spurs of coral, and within a short distance you are at the sloping drop-off. At the beginning of the dive divers can spot Dogtooth Tuna as they hang out just off the wall and might be surprised by sightings of Sharks that come in close to investigate from the open ocean. Covered in Encrusting Coral and Purple Sea Fans, the wall extends towards a bowl carved into the reef and creates shallow overhang at 12m. This overhang is home to Lobsters and Moray Eels while schools of fish seek shelter from the currents in the bowl. This is an ideal spot for divers to linger and explore as you can expect to see Giant Sweetlips, Napoleon Wrasse and deep-water Smooth Grouper. It is also quite common to spot schools of Bluefin Trevally, Giant Trevally and Longnose Emperor feeding here while a large school of Bluelined Snapper group together on the outer shoulder of the bowl. If you're lucky you will also see Eagle Rays soaring overhead. Atop the plateau divers with a keen eye can spot resting Turtles, Lionfish and various Nudibranchs amongst the colourful coral colonies.
Special Feature: Galawa holds really nice scenery with plenty of spectacular reef life as well as the chance to see pelagic species patrolling in the blue.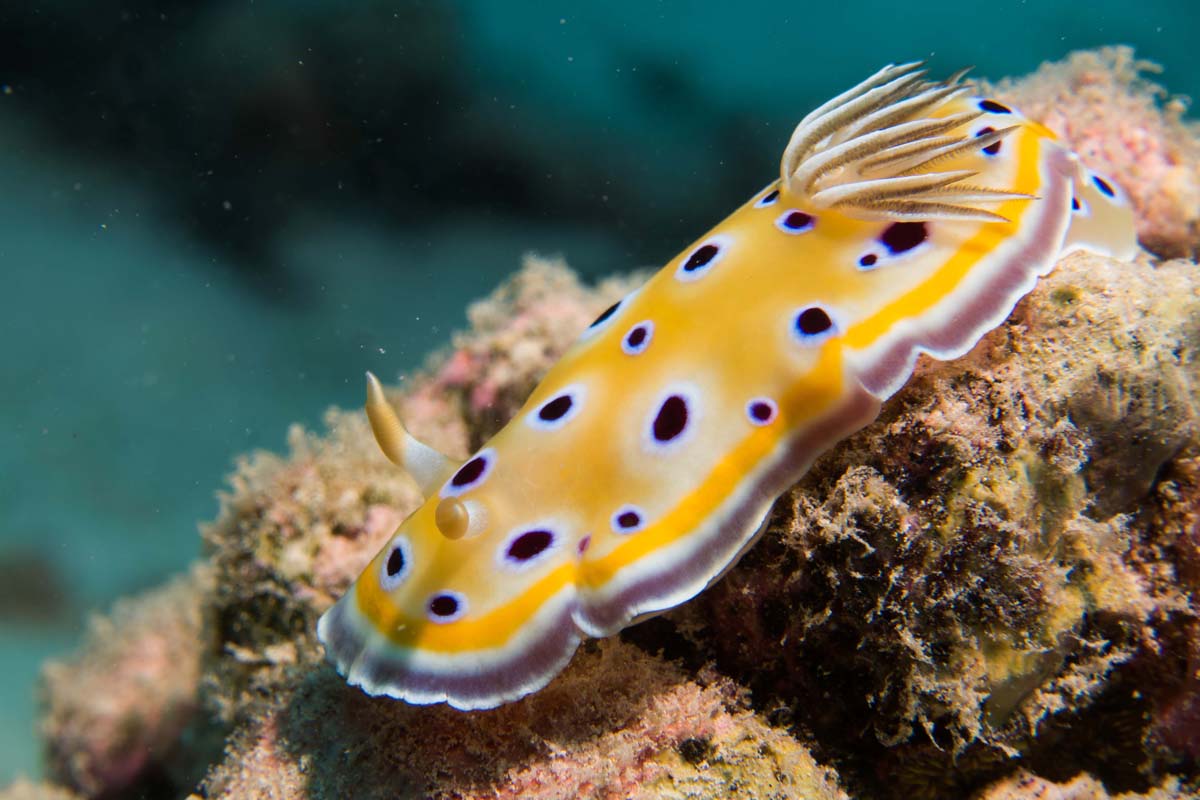 Nudibranch
Gorge Gonian
Location: 20 minutes by boat, East Alphonse
Depth: 8 - 30m
Gorge Gonian is a sunlit and Hard Coral-covered plateau which starts at 8m and curves into a drop-off at 13m. The plateau is teeming with reef fish and Turtles which makes it a great experience for beginners. The wall itself drops straight down to a secondary deep-water plateau at 30m. The site is named after the thousands of Gorgonian Sea Fans that extend for kilometres along the wall in a deep purple forest. Other impressive Soft Corals like bushes of Black and Whip Coral are also abundant here. These beautiful structures host a variety of unusual macro-life like Shrimps, Gobies and also the reclusive Longnose Hawkfish. As you dive deeper on the wall Napoleon Wrasse, Dogtooth Tuna and Giant Barracuda can be seen hanging in the blue while ascending to the shallows trains of Humpback Snapper carpet the reef. On the upper plateau divers are enveloped in a cloud of Bluestreak Fusilier dancing around them while spotting schools of Chub and Black Grouper in the distance. Heading towards the surface, you may even spot a Milkfish or two.
Currents at Gorge Gonian: Currents at this site are often weak allowing for gentle drifts and easy diving.
Special Feature: The Gorgonian-covered wallis spell-binding with the added charm of dappled light and vivid colours on the plateau.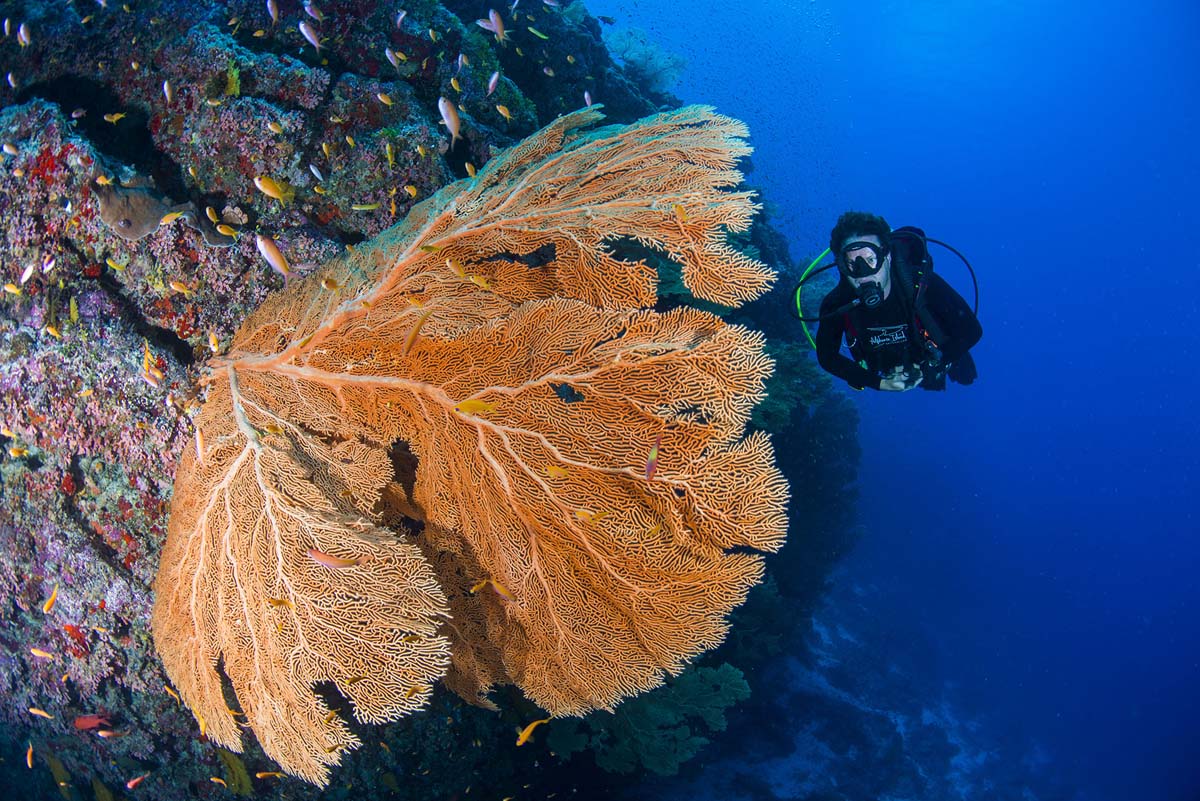 Large Sea Fan

Maggicliff
Location: 20 minutes by boat, East Alphonse
Depth: 8 - 40m
Maggicliff is epitomized by breath-taking underwater scenery. A dive here generally entails a drift along a spectacularly steep and Gorgonian-covered wall, The Magic Cliff. The drop-off at this site begins at 14m and extends to a secondary drop-off at 40m. The various overhangs and crevices covered in Soft Coral and Sea Whips along with the allure of the open blue is truly a special sight to behold. A diverse collection of macro-life can be seen on the mini shelves along the wall in the event that there is no current.
Special Feature: This is armchair diving at its best - sit back, relax and take in the view of the beautiful wall.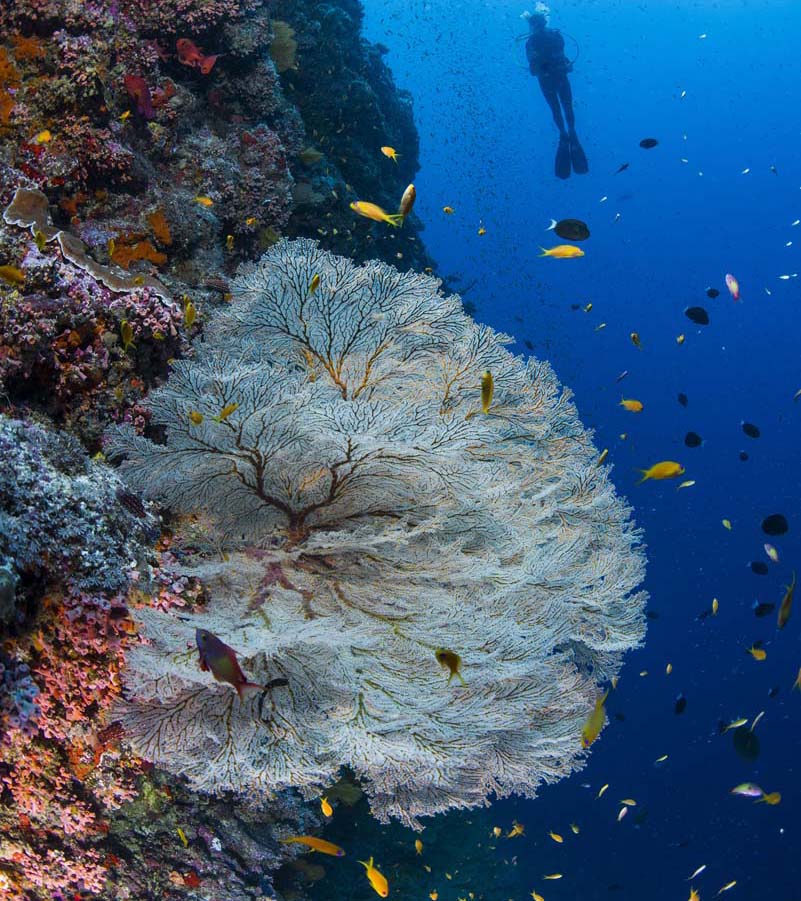 Gorgonian Sea Fan on the reef drop-off

Scuba Diving in the Seychelles is something that you will remember forever.
Book your scuba diving experience today and experience the underwater world of the Indian Ocean.