The Ultimate Tropical Scuba Dive at Alphonse Island
Jun 28, 2016
With over twenty sites covering various depths everyone can enjoy daily encounters of Stingrays, Turtles, Moray Eels, Barracuda, Sharks, Tuna, Grouper, Snapper, Trevally and many more. Whether you are an avid diver, keen to do a full PADI certification course or nervously interested in doing a try dive our dive team will cater to your needs.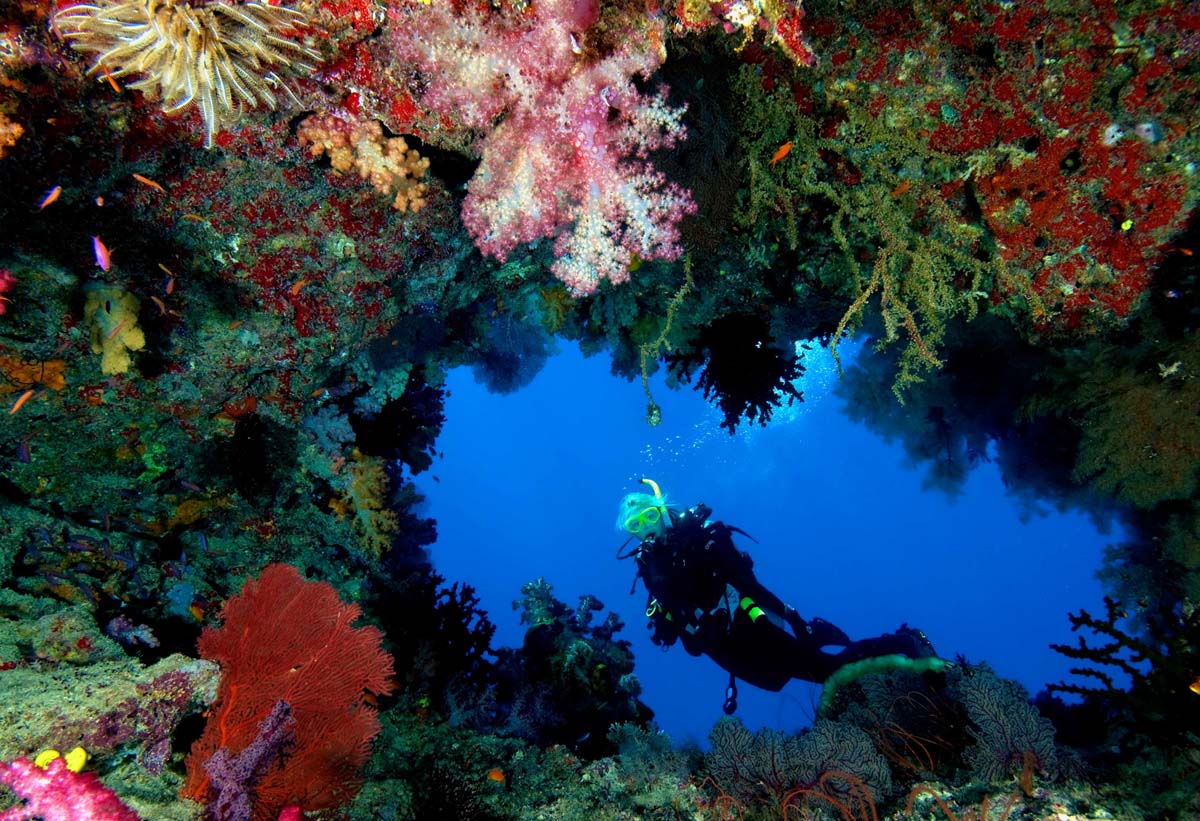 Diving at the different islands around Alphonse Island, you will experience a range of interesting topographies including steep to gentle walls, mini-walls, patch reefs, coral bommie mazes, pinnacles, overhangs and dramatic spur-and-groove platforms. We have drift dives ranging from gentle to high speed and provide reef hooks to hold your position and make sure you do not miss the multitude of fish before moving on.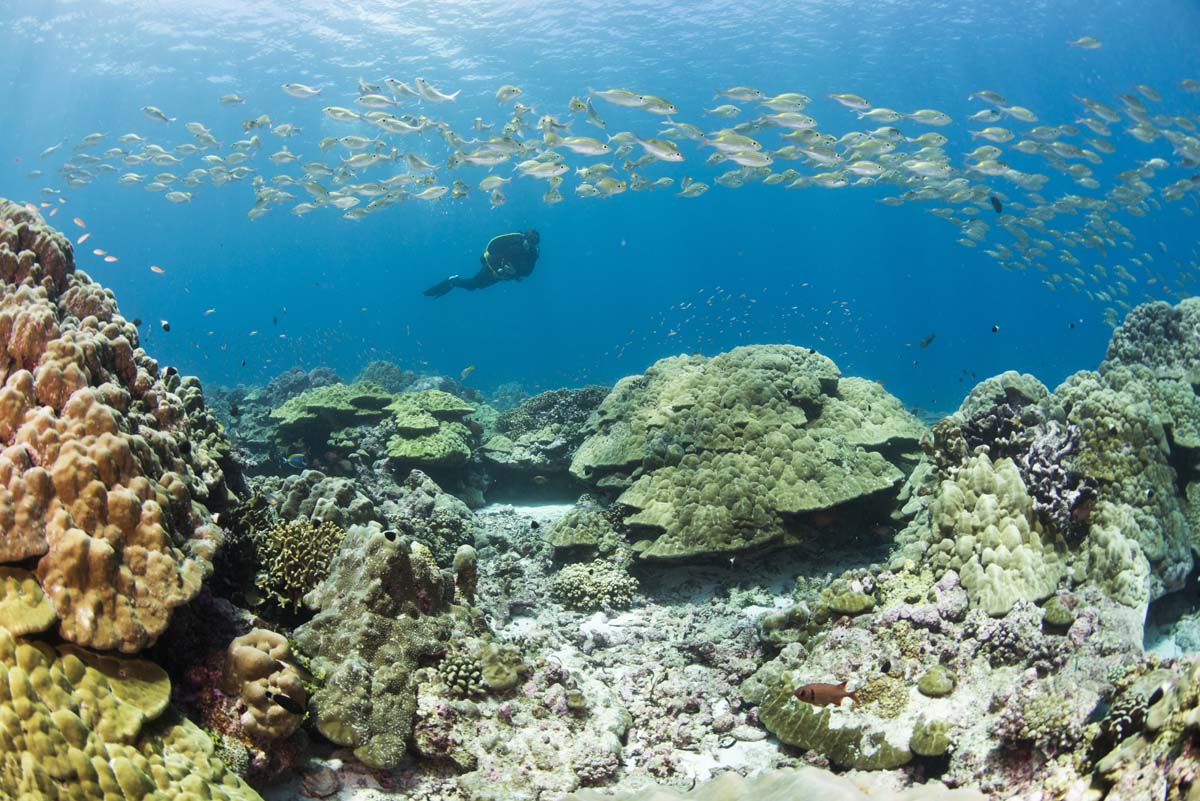 The sheer amount of fish as well as Green and Hawksbill Turtles populating the reefs of this remote ocean oasis is so amazing that it may distract you from the reef below. Many of our plateaus are 100% covered by hard coral whilst Gorgonian soft coral stretches on for kilometres along the deeper walls. Dramatic drops in depth occur tens of metres from shallow plateaus down steep walls beyond the limit of divers. This entices pelagic fish closer to reef and as a result Bigeye Trevally, Barracuda, Giant Trevally and Dogtooth Tuna are often spotted. Dolphins may even cruise past you during your safety stop in the blue. The reef itself is populated by parades of Eagle Ray, swarms of Snapper and many species of Grouper including Potato Cod and Giant Grouper.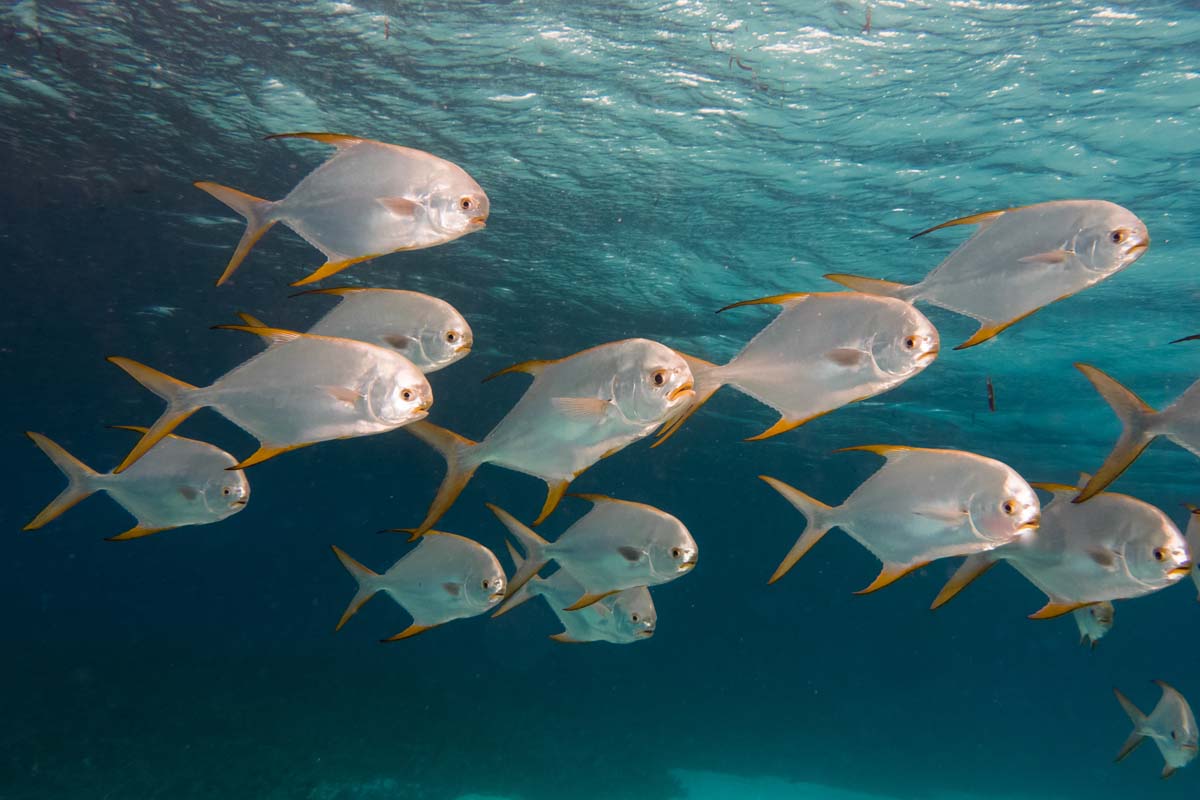 For the divers out there who are more interested in macro life, the reef hosts ten different species of Moray Eel, endemic Seychelles Anenomefish, Peacock Mantis, Squat, Spearing Mantis and Marbled Shrimp, Longnose Hawkfish, Nudibranch, Scorpionfish and Flatworm. We are increasingly adding to the list of new finds in this rarely dived part of the world.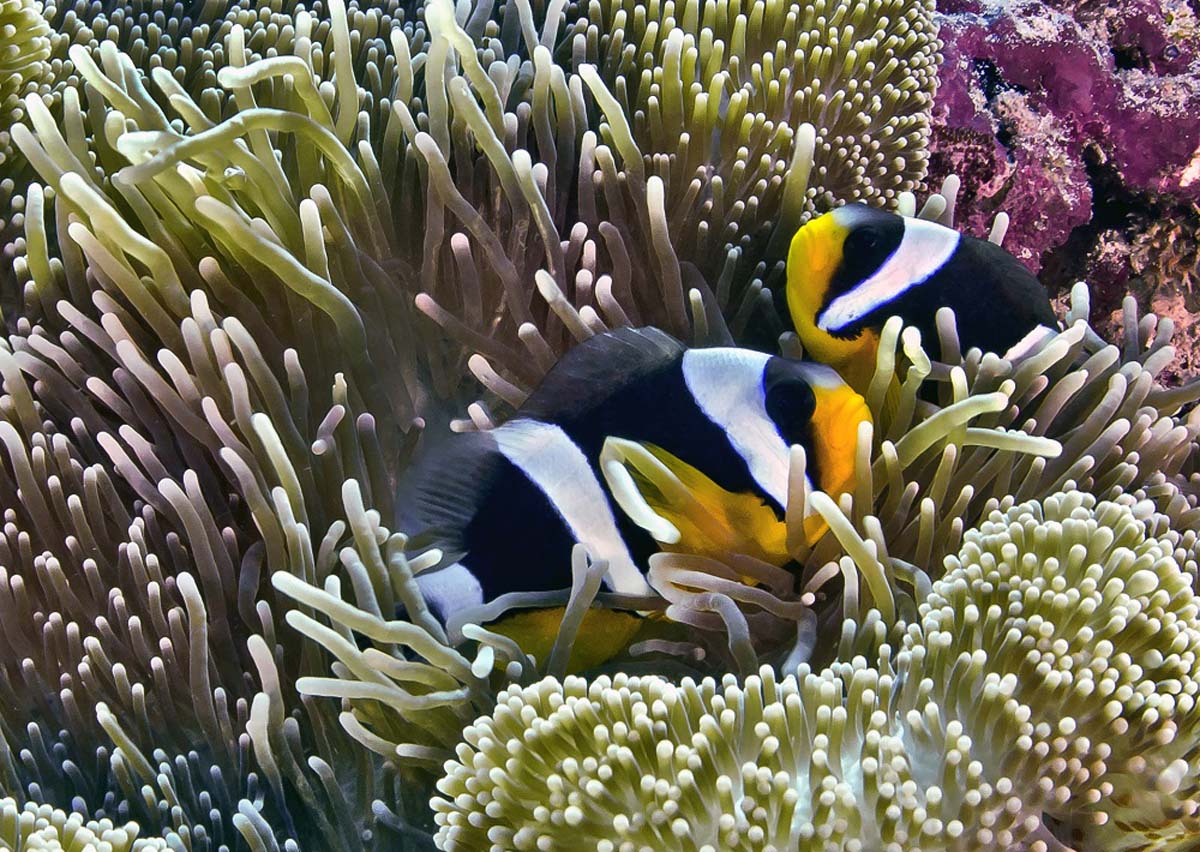 Alphonse Island offers exceptional scuba diving experiences with access to some of the most remote and abundant diving sites in the world. Your dive group will dive the outer reefs of the Alphonse Group covering a vast expanse of empty ocean. Pre-book your dive package and create a dive itinerary that suits you. Whether it be single or multiple dives a day, the ocean floor is yours.
When you want to book a personalised diving experience in the Seychelles, contact us directly and we can arrange your ideal dive.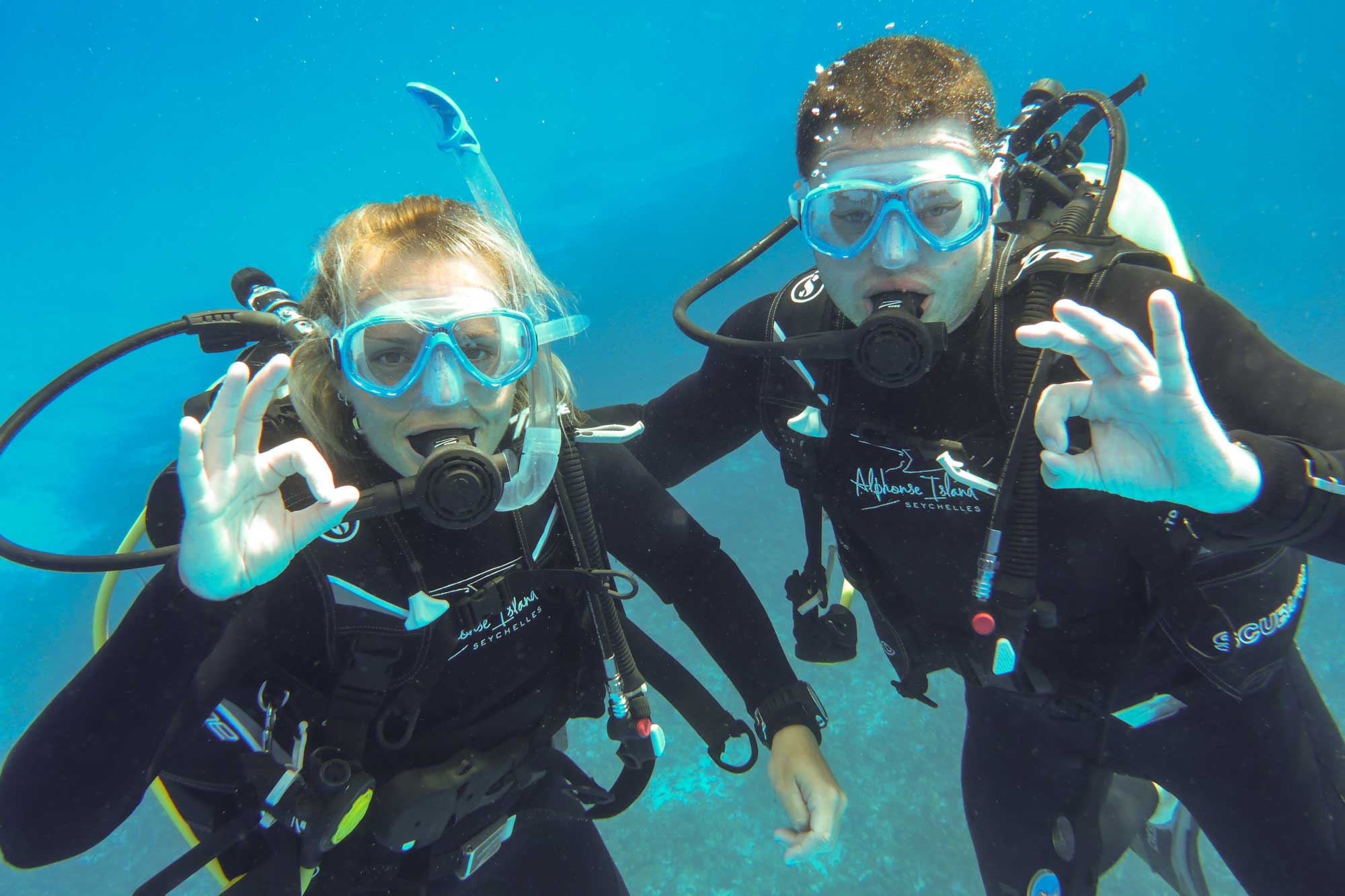 For non-certified divers, our PADI Certified Dive Centre and professional instructors enable you to train for your Open Water Diver qualification on the island. We recommend that visitors study some of the theory at home before their trip.
Perhaps you would like to try out diving for the first time? Then the Discover Scuba Diving course is for you. It takes you through some dive basics in shallow water and allows you dive around the outer reefs while supervised by an instructor.
Certified divers wishing to further their training can chose the PADI Advanced course or one of the speciality courses that focus largely on the conservation of the aquatic realm and can bring an entirely new perspective to diving.
All scuba equipment is provided along with drinks and snacks. Those who do not wish to wear a wetsuit will be most comfortable in swim shorts and a rash vest. If you do own a mask that you are familiar and comfortable with, then bring it along.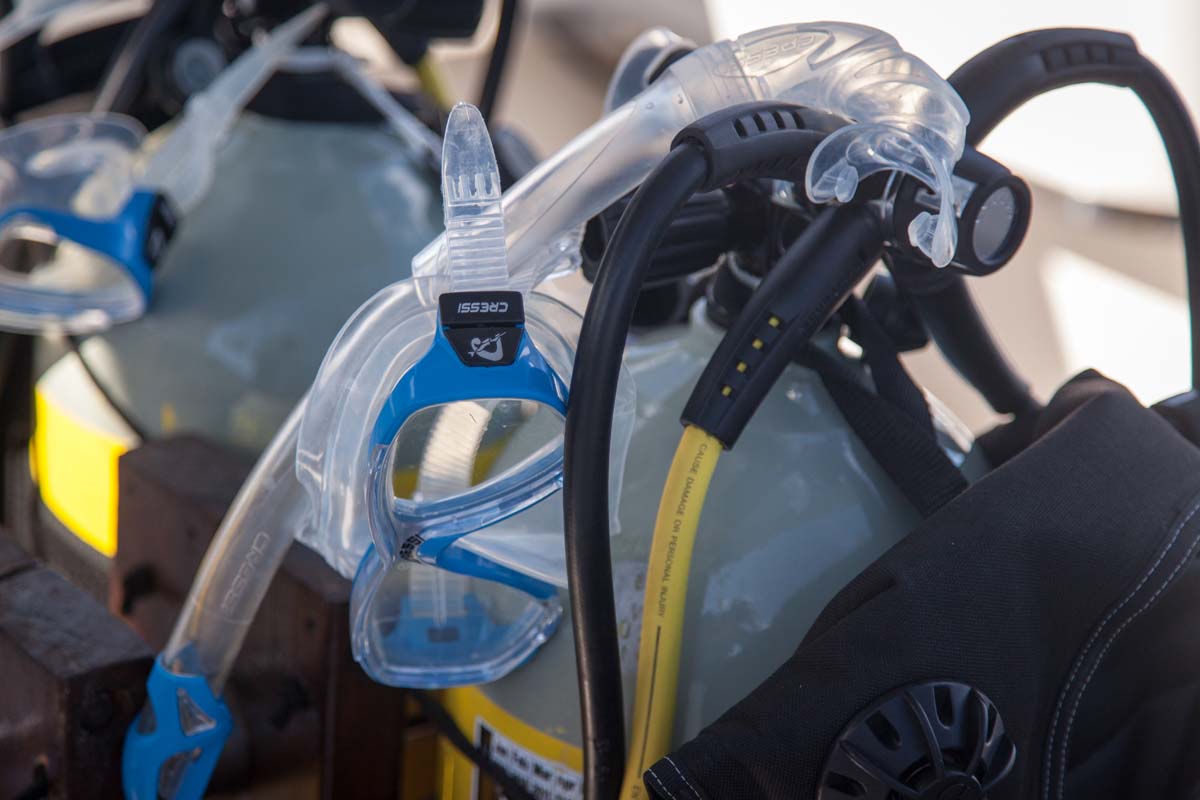 We are currently working on establishing safe and successful procedures for pelagic drift diving in the open ocean which will allow you to dive with Tuna or even Sailfish.
We are also committed to spreading the word about marine debris and contributing to ocean clean-ups. Our reefs are clean from debris apart from that originating from industrial fishing. Huge bamboo and net rafts called Fish Aggregating Devices (FADs) are deployed and abandoned by tuna fishing fleet. They drift onto and entangle our reefs and marine species. Island Conservation Society are working with the tuna companies to prevent this but the existing FADs still need to be removed and we will help to accomplish this. We'll keep you updated about the process.