Ocean Kayaking at Alphonse, Seychelles
Jul 06, 2016
Whether you're kayaking the perimeter of the Alphonse Island, or the house reef… It will be a kayaking experience like none other. Kayaks are available at many resorts with sterling views, but few can compare to the sheer remoteness and prolific marine life that exists here at Alphonse Island.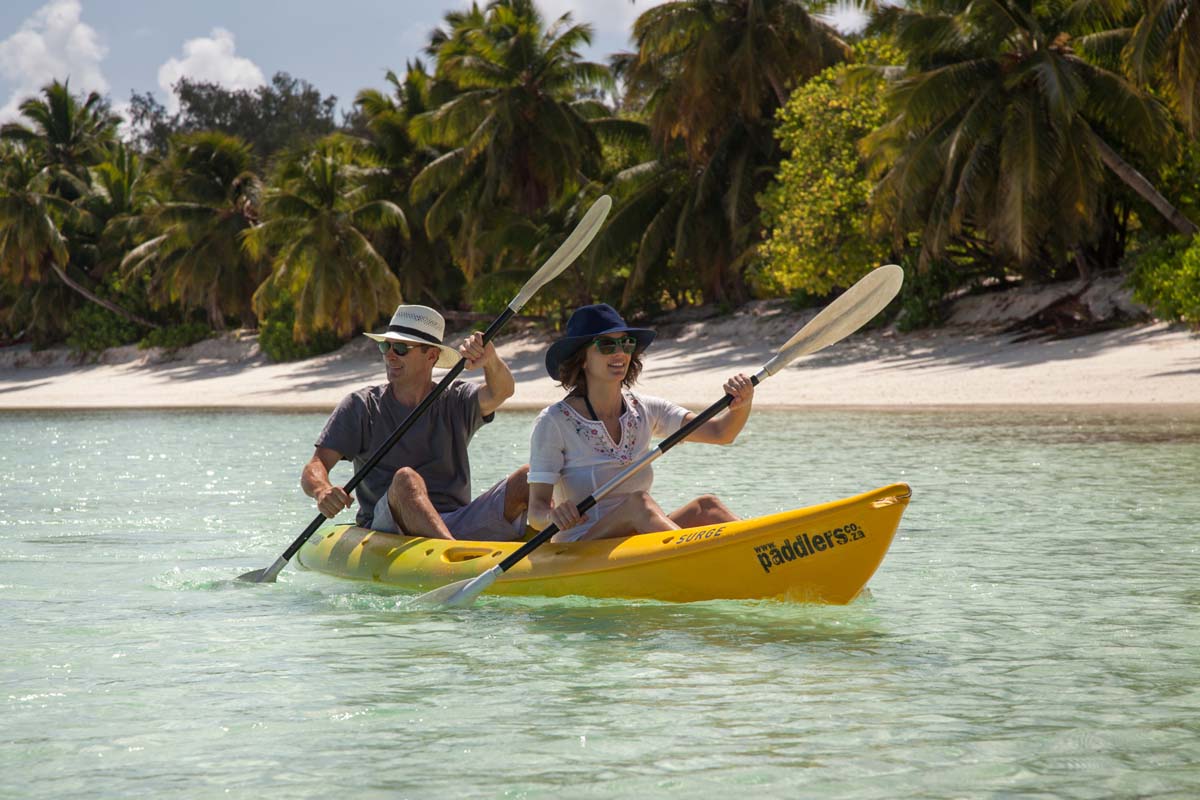 Kayaking is one of the more ideal ways to view marine life from above. Kayaks are non-intrusive and often allow guests to get quite close to turtles and rays around the flats. You may even pass straight over marine animals that are oblivious to your presence, providing you with an opportunity to watch them undisturbed in their natural habitat. There is also a possibility you could come close to a shoal of Mullet or Bonefish. 
It is an opportunity to explore the wondrous bounty of turtles, rays, fish and various other marine animals that may be passing by. Given the astounding population of fish, it is common to see a scattering of fish jumping away from their predators along the shoreline.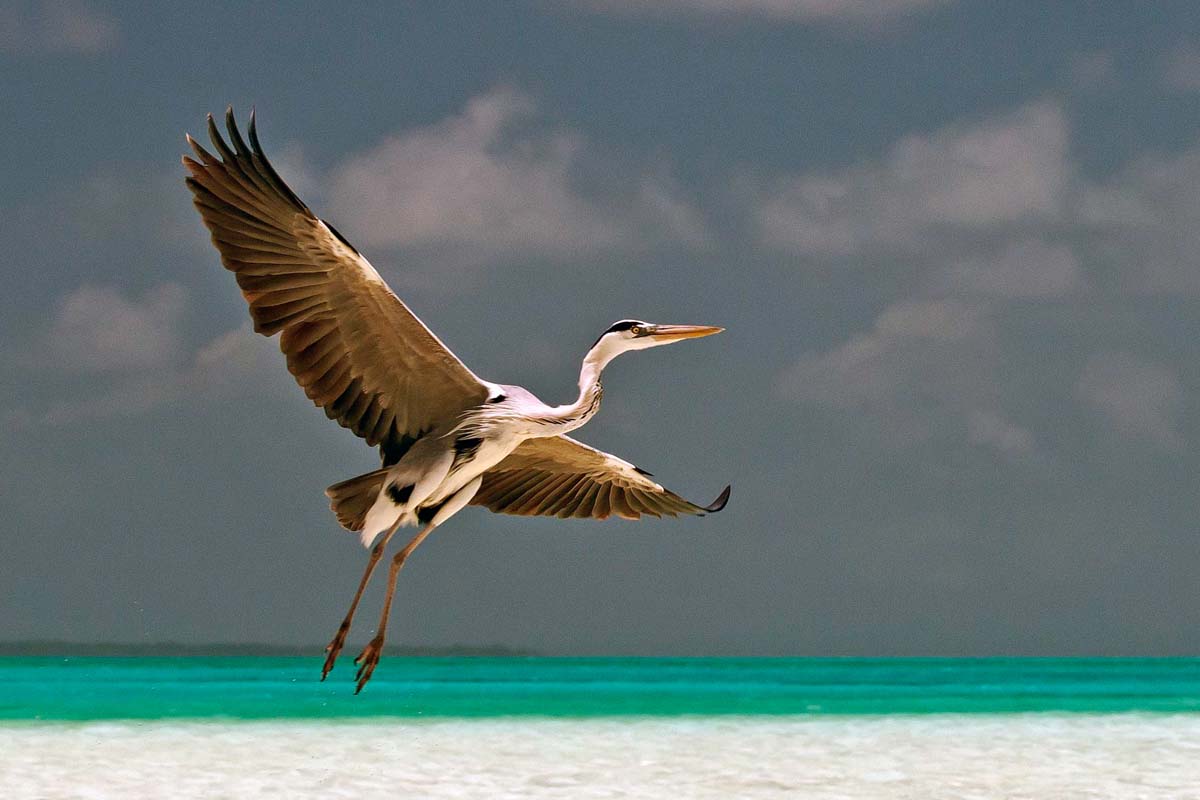 Birdwatching is also wonderful during a kayak tour with Grey Heron and Greater-crested Terns flying over as you glide along the water's surface. Alphonse Island now boasts the second highest bird population of the Outer Islands in the Seychelles, with the best time to bird watch being between October and April once many of the migrant species have returned. 
Kayaking at Alphonse is a great experience for both novice and experienced kayakers. With double or single seated kayaks you can take the controls or allow our experienced guides to help propel you through the water. They can also guide you to the best spots or point out any sea creatures or birds you come across.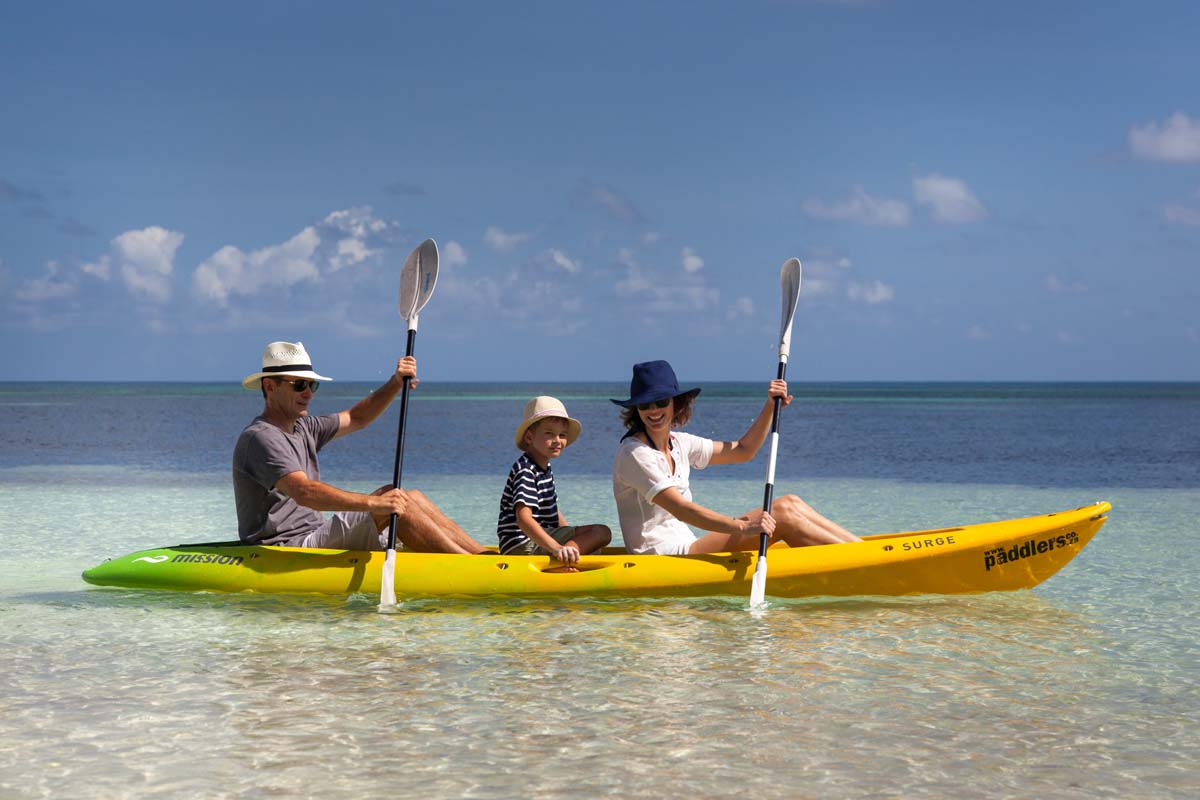 You may get a bit wet during the trip, but at 7° South of the equator a splash from the warm Indian Ocean is a welcome treat. To make sure you are comfortable throughout the hour long trip we recommend lightweight clothing or rash vests, swim shorts, hats and sunscreen. Polarised glasses are also great for eye protection and are the best for spotting marine life in the water beneath.
We recommend guests to either kayak during high tide when the opportunity to see marine life is rife, or during the late afternoon when the mesmerising light of the escaping day paints the surrounding ocean and island.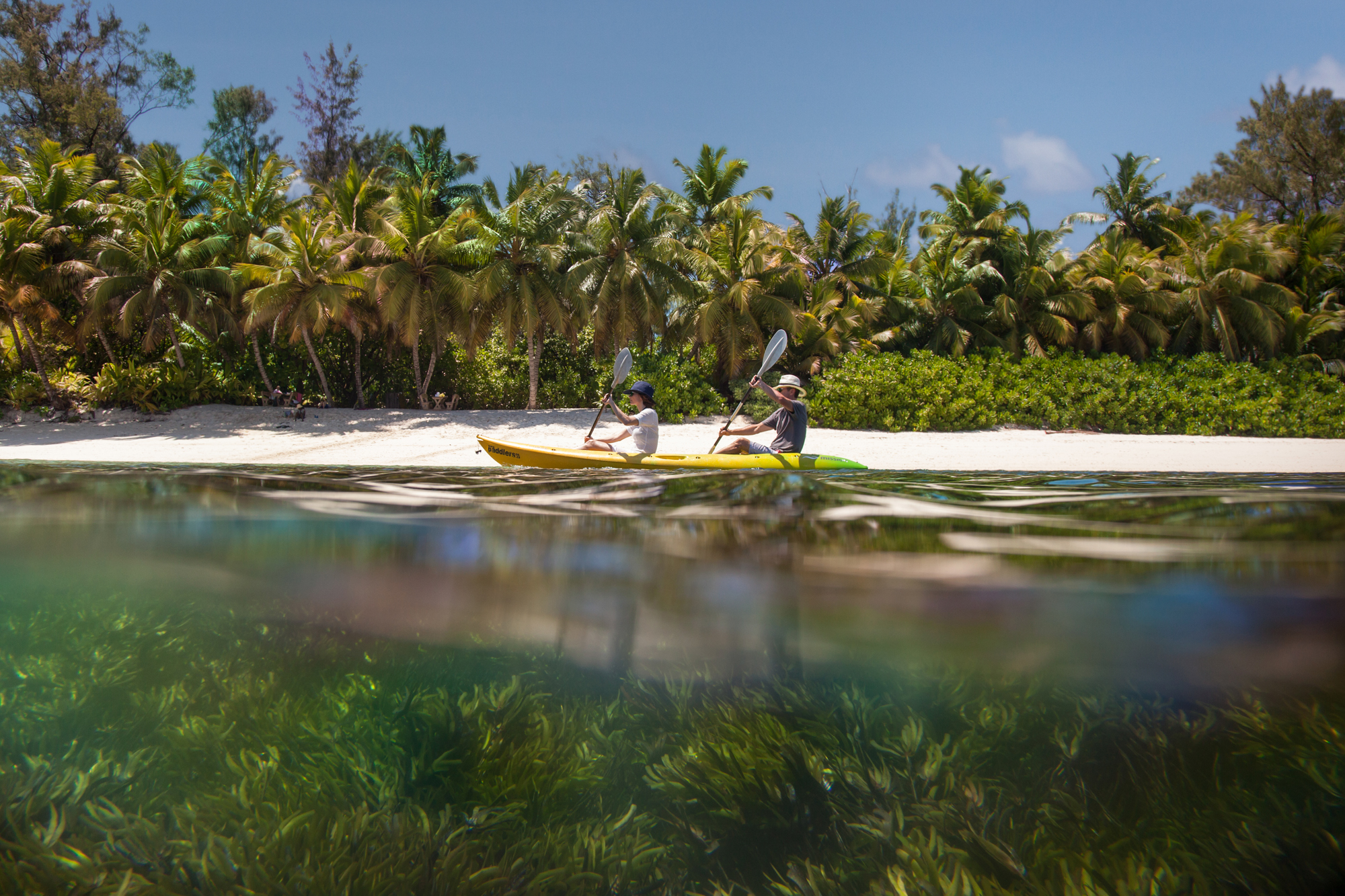 Have a look and see what other ocean activities are available at Alphonse Island.
Read more
We take a look at all the underwater wonders discovered in Week 7 & 8.
Explore the shimmering waters around Alphonse Island with a range of fun ocean experiences.
We take a look at all the underwater wonders seen in Week 5 and 6.
During a routine census that the ICS Team made a wonderful discovery on St. François.
The Diving Season continues with more excellent dives and wonderful sightings in week 3 & 4.
Experience the scuba diving sites of Alphonse Island (less than 30 minutes away) in the Outer Island of the Seychelles.
Explore the Scuba Diving Sites of Bijoutier Island near Alphonse Island in the Seychelles. Discover the underwater treasures of this little jewel in the Indian Ocean.
The Alphonse Dive Centre offers a range of Advanced Diving Courses through which you can upgrade your scuba diving experience.
Enhance your scuba diving experience at Alphonse Island with the Beginners Diving Courses offered by the Alphonse Dive Centre.
Join our activities team on one of our island experiences, turtle tracking and discovering. This is a one of a kind activity offered at Alphonse Island, Seychelles.
Happy PADI Women's Dive Day (15 July 2017)!
Alphonse Island and the Seychelles holds a rich history dating back to the 1500s. We take a quick look into the history of this beautiful destination.
Make your honeymoon unforgettable with this exclusive Honeymoon Offer at Alphonse Island, Seychelles.
Oceans cover over 70% of the earth's surface and as such, Alphonse Island is thoroughly committed to reducing waste and doing all it can to protect our beautiful oceans.
With our Stay Pay Special Offer you can enjoy a little bit more island paradise on us!